Application scope and operation of JYD-JG150 Two-head CNC paper tube machine
2023.02.15
JYD-JG150 Two-head CNC paper tube machine because of its high-quality functions and excellent adaptability is not only widely used, but also more colorful. JYD-JG150 Two-head CNC paper tube machine can be used to produce and process various chemical fiber industrial pipes, various maintenance film products, packaging and printing industrial grade pipes, professional papermaking pipes, PU leather, leather products, blanket leather, and other leather products in industrial production.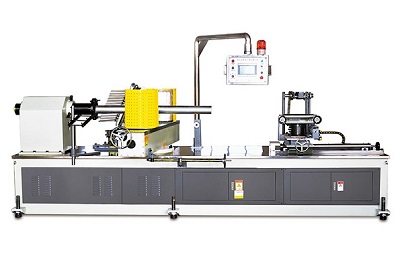 Application scope and operation of JYD-JG150 Two-head CNC paper tube machine
1. Scope of application: Paper tube equipment is used in all walks of life in life, is widely used, has bright development prospects, and is simple and easy to operate, but has certain risks. Papermaking: roll paper inner core, etc. Stationery: paper pen holder, fax paper core, stationery cards, etc. Printing: For cutting and printing products, rewinding and rewinding, etc. Packaging: all kinds of paper tubes and cans, used for food, tobacco, and alcohol, exquisite packaging, gift boxes, daily necessities, etc.
2. Explanation of the nameplate: The equipment nameplate is located on the right side of the machine. The plate has information such as input voltage, name input current, input power frequency, input power, and so on. When the power is connected, strictly follow the power parameters on the nameplate.
3. Working standing position: the front is facing the paper tube equipment, and now the professional operation is performed from a safe distance.
4. Safety precautions for use: JYD-JG150 Two-head CNC paper tube machine has a heavy-duty loading mechanism. The operation of the machine should be strictly operated in accordance with the rules. Non-technical personnel should not tamper with the machine without permission. Observe and learn under the guidance of professionals. The dividing cutter is a sharp metal tool, and it is necessary to cut off the power supply when adjusting the cutter. When the equipment is working, do not open the protective cover of the cutter. The equipment needs to have reliable grounding protection. The repair of electrical appliances requires a professional electrician repair. The operator must have a basic understanding of the safety warning signs of the equipment and be alert to various dangerous parts of the equipment.
5. Model Description: JYD-JG150 Two-head CNC paper tube machine standard: 50 indicates that the thickness of the paper tube that can be produced is 0.6_5mm and the inner diameter is 10_50mm. 120 means that regular production can be done only with a thickness of 1_10mm and an inner diameter of 10_100mm. 200 means that the thickness of the paper tube that can be produced is 1_15mm and the inner diameter is 20_300mm. A number of head groups: 2 indicates two heads.
6. Appearance of equipment: takeover rack, face-to-face delivery, main machine of paper tube machine, machine control cabinet, glue rack, paper rack, connecting bar.
7. Transfer and installation: JYD-JG150 Two-head CNC paper tube machine loading and unloading: The loading and unloading of the paper tube equipment should be carried out by a forklift. Pay attention to the light weight of the equipment. between forklifts to prevent the equipment from shaking and falling over.