Energy-saving and environment-friendly automatic paper plate machine
2023.03.09
ZP-D400 Automatic paper plate machine has functions such as dual-station independent self-starting, automatic paper suction and paper feeding, upper and lower heating and forming, automatic product output and constant temperature control, automatic counting and stacking plates, etc. It can be directly matched with the production line for production. Equipment for various types of paper plates with specifications.
Compared with the traditional paper plate machine, the ZP-D400 Automatic paper plate machine is redesigned to use the mechanical movement principle to have higher production speed, more stability, safer, and more convenient operation and maintenance, and more humanized structural design and other advantages.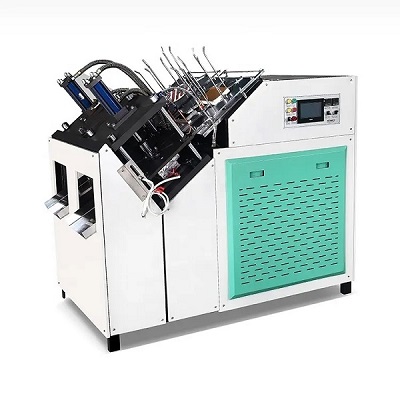 ZP-D400 Automatic paper plate machine adopts a fast hydraulic cylinder, the station production speed is 50-70 pieces/minute, and the pressure can reach 4T. Compared with ordinary machine cylinders, it is faster, more environmentally friendly, and more energy-saving.
1) The equipment adopts Japanese Omron, Delta, and other Yade electric components
2) The carton output device adopts a fully automatic output, collecting, and stacking device, and a counter can be installed to facilitate customer packaging and reduce labor input.
ZP-D400 Automatic paper plate machine is a newly developed automatic paper cup forming machine. This machine absorbs the advanced technology of various countries, combines JYD's many years of production experience, and continuously develops it. It is suitable for various quality paper materials in the market. It is a major breakthrough in the medium-speed machine calendar. This machine is driven by an imported Schneider frequency converter, ultrasonic welding, Swiss hot air preheating, overall automatic lubrication, vacuum pump suction paper, and automatic cup collection system, with stable performance and a high degree of automation.