Description
The automatic honeycomb paper core machine can produce honeycomb paper core in one stop. The production process starts from high-strength corrugated paper to the direct output of the cut honeycomb paper core, and the introduction of foreign advanced technology eliminates the need for paper cutters and butt joints for the traditional production of honeycomb paperboard. The biggest advantage of this production line is high automation and low labor cost.

The paper honeycomb core machine consists of 7 parts: a heavy-duty hydraulic paper frame, paper core gluing machine, paper core conveying press, dryer, high-speed cutting machine, paper core conveyor, and electrical control cabinet.
Honeycomb Paper Core Application
Paper honeycomb core machine is widely used in the packaging industry, transportation industry, making crafts or making honeycomb paperboard, etc.
From a structural point of view, any solid board can be replaced by a honeycomb structure board, and the effective material used in the honeycomb material is only 2-6% of the replaced material. For example, in the furniture manufacturing and packaging industry, 1000 kg of paper honeycomb materials can replace 30-50 cubic meters of solid wood panels or 40-60 cubic meters of EPS white foam materials.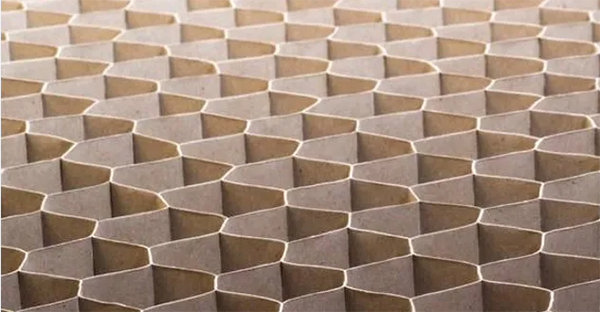 Obviously, the honeycomb paper core has the characteristics of light material and environmental protection. Honeycomb material is a lightweight material with low material consumption and low energy consumption. It can not only save a lot of natural resources such as wood but also greatly reduce the use of white foam that pollutes the environment.
Honeycomb Core Machine Advantages
Honeycomb core machine touch screen operation, easy to operate, convenient for workers to operate;
The paper honeycomb core machine has high cutting precision, fast speed, stable and reliable performance;
The honeycomb paper core machine has advanced technology, a high utilization rate of base paper, and low loss;
The degree of automation is high, from the raw paper feeding to cardboard output, the honeycomb paper core machine is completed in a fully automatic production line at one time.
Here is our fully automatic honeycomb paper core machine youtube video working process in our factory for your reference!!
Full-automatic Honeycomb Core Machine Parameter
| | | |
| --- | --- | --- |
| No. | Item | HCM-2000 |
| 1 | The thickness of honeycomb paperboard | 6-100mm |
| 2 | Width of paper core (before expanding) | 2000mm |
| 3 | Honeycomb core cutting speed | 0-800 cuts/min.(decided by thickness) |
| 4 | Cutting tolerance | +-0.1mm (with ring crush index over 7.0 Nm/g, thickness less than 50mm) |
| 5 | Applicable paper | 90-200gsm corrugated paper as core paper(over 200gsm, use 4 layers) |
| 6 | Qty of paper reels | 4 |
| 7 | Cell size | 8-40mm (according to customer choice, choose two cell sizes) |
| 8 | Heating drying method | Electric heating /steam heating (according to customer condition) |
| 9 | Total Engine power |                          42KW |
| 10 | Installation power | 90kw (electric heating system) |
| 11 | Normal working power consumption | 40-60kw (electric heating) |
| 12 | Manpower | 3 |
| 13 | Layout | 28000X4500X3000mm |
| 14 | Weight | 30 Tons |
| 15 | Power supply | Three phases, 380V/50Hz |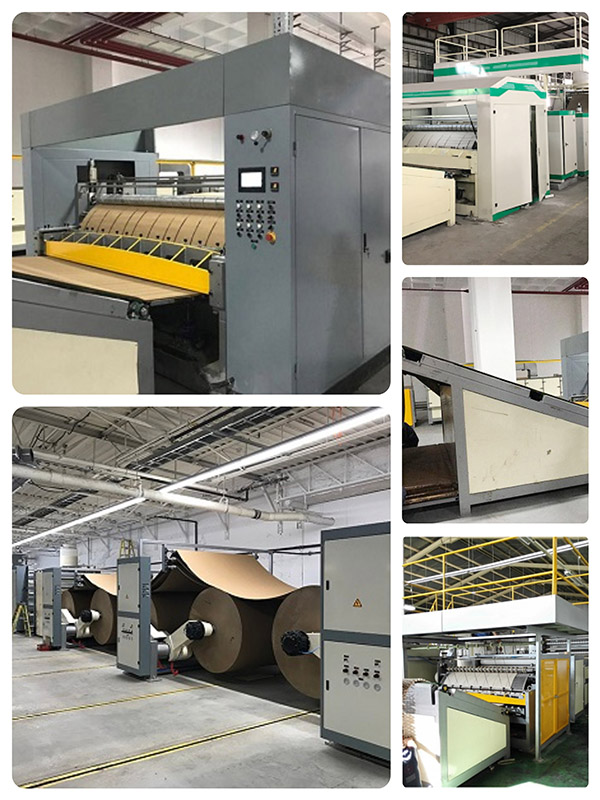 Honeycomb Paper Core Machine Features
The honeycomb paper core machine can produce two kinds of honeycomb paper with different cells;
The decorative panels on the paper honeycomb core machine are raised, the sides are curved, and the paper platform guardrails are raised;
Two sets of honeycomb gluing mechanisms with different cell sizes (the cell size is determined by the user) apply glue to 4.5mm and 6mm paper at the same time;
The paper core conveys smoothly (the conveyor belt adopts NBR), and the frequency and speed can be adjusted separately on the paper honeycomb core machine;
The honeycomb paper core machine is controlled by PLC and runs synchronously. In addition, the operating speed of each section can be adjusted independently;
Tooth roller, upper rubber roller, precision grinding, surface hard chrome plating, umbrella size, main upper rubber roller sealing ring. Each toothed roller can be adjusted laterally to adjust the cell shape of the honeycomb;