Description
Performance and characteristic
Suitable for each copy paper manufacturer, packaging copy paper has three benefits :
① The packaging effect is clean and standard.
② JYD-297A copy paper packing machine replaces labor, machine packaging speed: 10 – 15 bags/min, about 700 boxes in 8 hours.
③ Reduces staff labor intensity and improves work efficiency.
Working principle of JYD-297A copy paper packing machine
The working principle of the machine is to take the mechanical linkage structure as the main body and rely on a series of cams inside the machine to drive the connecting rods and working parts to complete. Adopt multi-function digital display frequency conversion stepless speed regulation: PLC programmable control design technology, realize the principle of feeding paper, wrapping, spraying glue, pressing seal, conveying, and so on.
The JYD-297A copy paper packing machine interface can be realized by using a touch display screen, which can complete the functions of programming settings, control operation, tracking display, fault stop, and so on.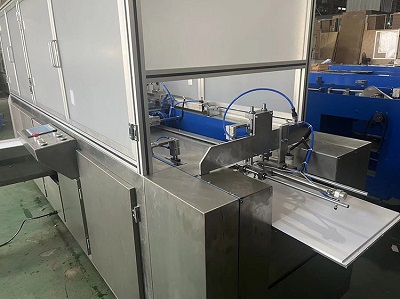 Main Parameter
| | |
| --- | --- |
| Model | JYD-297A |
| Capacity | 10-15 Ream/Min |
| Automatic paper feeding function for sheet wrap | 10-15 Pcs/Min |
| Packaging specifications | 210×297×50-60mm(according to A4 copy paper 500 laminated height) |
| Specification for outsourced paper (length and width) | 550-560mm×386mm |
| Electric request | 380v,3 phase, 4 lines |
| Total Power | 8KW |
| Actual Power | 3.1kw when production |
| Compressed power | 0.5-0.8 Mpa |
| Overall Size | 4100mm×3100mm×1950mm |
| Adhesive | hot melt adhesive |
| Personnel requirements | 2 people (preferably mechanical with 2 years experience in other machines) |