Description
The automatic paper tube sealing machine is an efficient and convenient mechanical device used to seal the port of paper packaging. It can be widely used in food, medicine, cosmetics and other industries to improve production efficiency and ensure product quality and hygiene.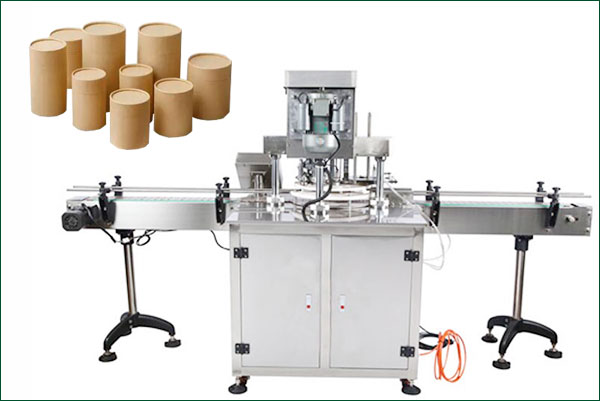 How To Use Paper Tube Sealer Machine?
The paper tube sealing machine adopts advanced automation technology and can automatically complete the entire process of paper sealing. The operator simply places the paper into the machine, sets the sealing requirements, and starts the machine. The machine automatically rolls up the paper and seals both ends precisely to ensure the integrity and sealing of the package. This fully automated operation method not only saves labor costs, but also reduces the operator's labor intensity and improves work efficiency.
JYD-980 Paper Can Sealing Machine Parameter
| | |
| --- | --- |
| Model | JYD-980 |
| Material |  Stainless Steel |
| Bottle cap height |  80-250mm (Adjustable) |
| Bottle cap diameter |  30-110mm (Adjustable) |
| Bottle diameter |  70-110mm(Adjustable) |
| Capping speed |  50-70 bottles/min |
| Power |  3.3-3.8kw |
| Weight |  104kg |
| Size |  3650(L)*1500(W)*1850(H)mm |
| Voltage |  220V,50Hz |
Here is the paper tube sealing machine youtube video working process in our factory for your reference!!
Paper Can Sealer Features
1. JYD-980 Fully automatic paper can sealing machine adopts 304 stainless steel, in line with GMP requirement;
2. The twist-off/screw capping machine is novel in design, intelligent in mechanical torque control, and convenient in operation and adjustment;
3. The bottles/Jars are in the process of forwarding, the vibrating bowl automatically feeds the caps, and the caps are automatically tightened by four sets of cap-rubbing wheels. The paper can sealer machine can be used independently single, also can be connected to the other production line.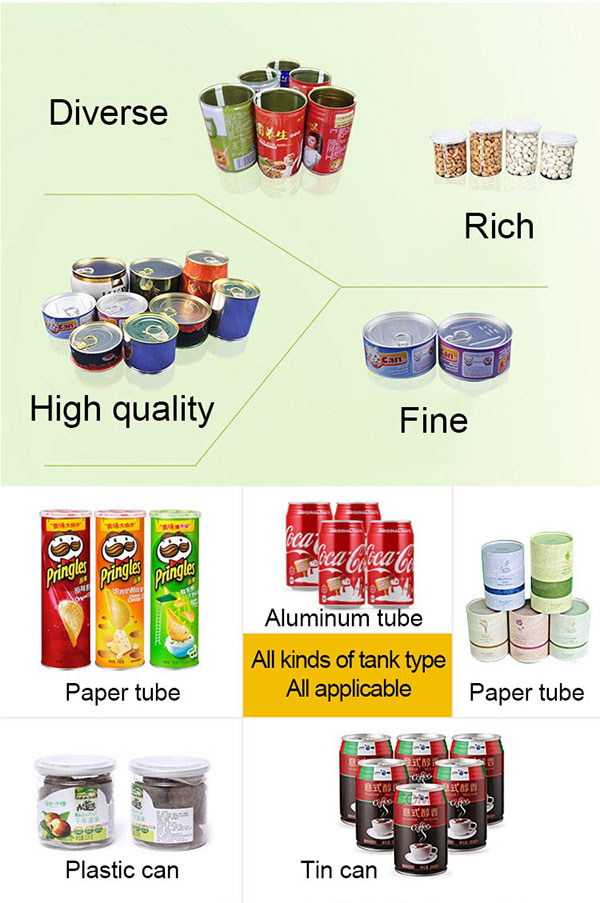 Paper Can Sealing Machine Advantages
1. The design of the operation panel is reasonable and simple, and it is easy to adjust and maintain;
2. The sealing roller adopts four rollers for sealing. The sealing rollers will not rust and have good sealing performance;
3. High production capacity and automation, saving labor costs, and suitable as equipment for can sealing production lines;
4. The tank body is designed not to rotate during the sealing process, the processing precision is high, and the sealing quality is superior to similar domestic products;
5. It is suitable for sealing various round cans such as tinplate cans, aluminum cans, paper cans, etc. The operation is simple and easy to learn. It is an ideal equipment for food, beverage, pharmaceutical and other industries.
The emergence of fully automatic paper sealing machines has greatly improved the production efficiency and quality of the packaging industry. Its automated operation and multifunctional features make it an indispensable piece of equipment in modern production lines. With the continuous advancement of technology, fully automatic paper sealing machines will become more intelligent and efficient, providing more convenient and reliable solutions for production in all walks of life.