Description
A4 paper cutting and packaging machines are indispensable equipment in the modern office environment. The role of these machines is to cut large sheets of paper into standard A4 size and package them for easy storage and transportation.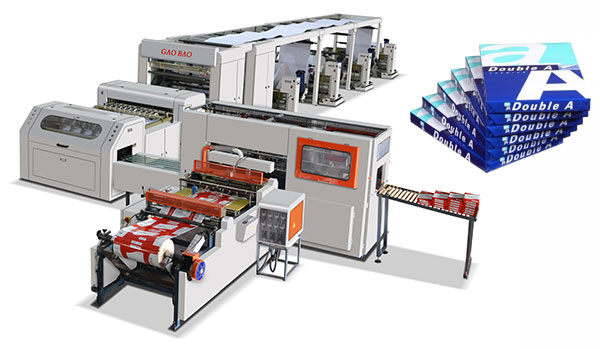 A4 paper cross cutting machine main components : This A4 paper cross cutting machine consists of an unwinding part, a slitting part, a cross-cutting part, a paper delivery and conveying part, a cross-cutting mechanism and electrical control, etc., which are optional packaging machine devices.
Discharging part
This machine can choose single discharge, double discharge and four discharge devices according to different requirements;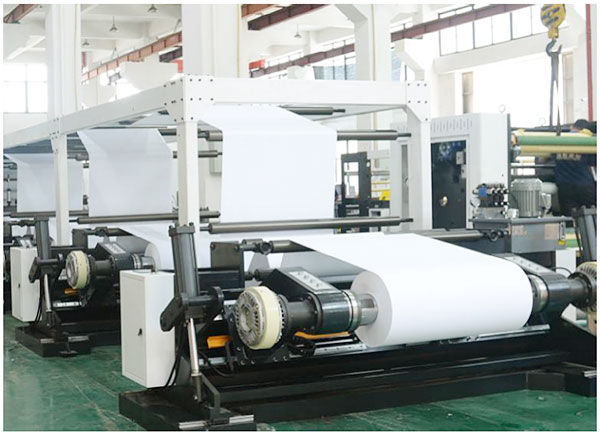 Cut part
The circular knife is used for slitting, and the specifications can be adjusted at will. The circular knife adopts pneumatic rising and falling functions;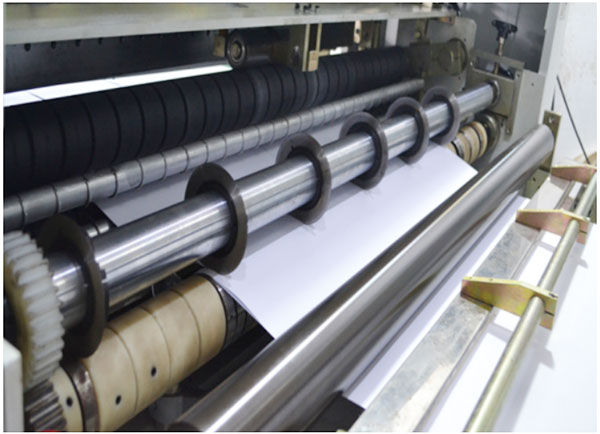 Cross section
(1) Cutting method: The lower knife is fixed, and the upper knife actively cuts
(2) The tool holder adopts a heavy-duty casting structure
(3) A4 cutting adopts conveyor belt and pressure wheel for conveying and finishing at the same time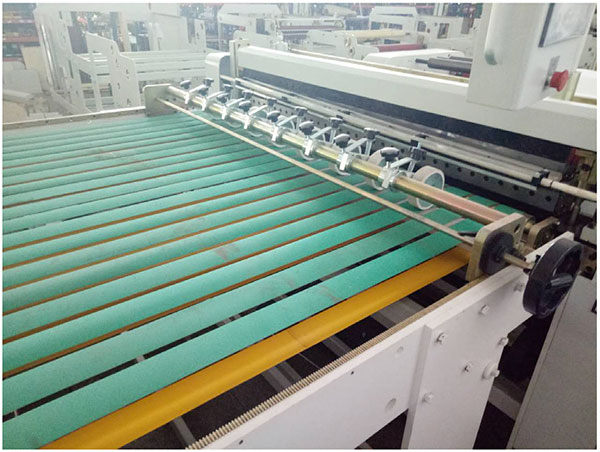 Paper output conveying part
1. Automatic conveying device: adopts three-level conveyor belt automatic conveying method;
2. The conveying motor adopts 0.75KW frequency conversion synchronous control;
3. Automatic pneumatic control of paper output baffle
Packaging part
Optional single pneumatic packaging machine, applicable scope: roll packaging materials are color printing gummed paper, coated tissue paper, film tissue paper, glazed paper, hexahedral lining
JYD-HQJ-1100 A4 Paper Cutting Machine Parameter
| | |
| --- | --- |
| Model | YZH-HQJ-1100 |
| Raw Material Max Diameter | φ1500mm |
| Max Paper Width | 1000mm |
| Cutting Length | A4 Format |
| Longitudinal cutting width | Can be customized according to customer requirements, and the choice of tertiary conveying. |
| Cutting Speed | 50-200times/min |
| Fixed length precision | ±0.2mm |
| Power Supply | 22kw |
| Machine Weight | 9000kg |
Here is the A4 paper cutting and packing production line youtube video working process in our factory for your reference!!
A4 Paper Cross Cutting Machine Features
1. JYD-HQJ-1100 A4 paper cross cutting machine and packing machine adopts a servo motor to control the cutting length.
2. Pneumatic feeding can be optional. The machine is featured with motor variable frequency speed regulation, automatic counting, alarm stopping, and manual adjustment of tension function with magnetic powder or friction piece.
3. The transmission system adopts the centralized control of pneumatic, photoelectric sensors, and so on. This machine integrates light, electricity, and air. It is characterized as easy to operate, has high cutting precision, stable performance, and low noise.
A4 Paper Cutting And Packing Machine Advantages
1. Side conveyor automatic feeding;
2. Configure automatic packaging machine;
3. Longitudinal slitting of A4/A3 size specifications, waste edge fan removal;
4. The roll can be unrolled and cut horizontally and vertically at the same time;
5. This machine uses PLC to control the fixed length and has automatic counting and alarm shutdown functions;
A4 paper cutting and packaging machines play an important role in modern office environments. They save time and human resources, increase work efficiency, and provide better paper quality and appearance. Therefore, these machines are worth investing in and offer many benefits to businesses and institutions.