Description
Automatic paper tube curling machine is a machine used to curl paper tubes. It can quickly and accurately curl paper tubes into the required shape through automated means. The emergence of this machine has greatly improved the efficiency and quality of paper tube production.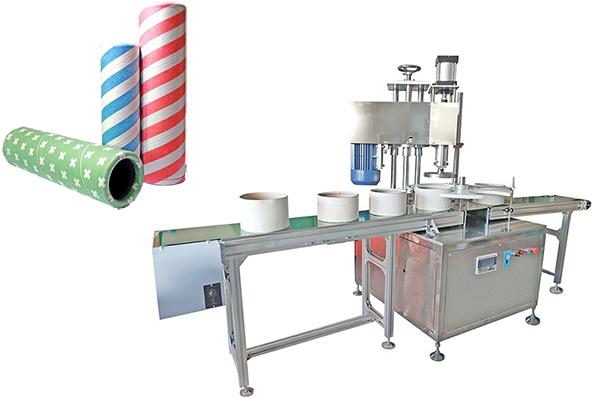 The traditional paper tube curling process requires manual operation, which is not only time-consuming and labor-intensive, but also prone to errors. The emergence of automatic paper tube curling machines has completely changed this situation. It adopts advanced control system and precise mechanical structure to automatically complete the paper tube curling process. The operator only needs to simply set the machine parameters and press the start button, and the machine will automatically complete the curling work.
Automatic Paper Tube Curling Machine Advantages
First, it can greatly improve production efficiency. Due to the high degree of machine automation and fast curling speed, one machine can complete the workload required by multiple traditional workers;
Secondly, the machine's high curling accuracy ensures consistent quality for each paper tube. Whether it is diameter, length or curvature, it can be adjusted precisely according to needs;
In addition, the machine also has the characteristics of good stability and high reliability, and can operate stably for a long time, reducing maintenance and downtime.
Paper Tube Curling Machine Parameters
| | |
| --- | --- |
| Model | JYD-JBAT06 |
| Tube diameter | 60-135mm |
| Tube wall-thickness | 0.7-1.5 mm |
| Tube length | 50-350 mm |
| Working air pressure | 0.6 MPA |
| Main motor | 2 KW |
| Product speed | 10-40 / min |
| Operate mode | Automatically cycle rotation |
| Mainframe size | 1300*1250*2200 mm |
| Weight | 550 KGS |
Automatic paper tube curling machines are widely used in the field of paper tube production. It can be used to produce various types of paper tubes, such as packaging paper tubes, toilet paper tubes, paper cores, etc. Whether it is a large-scale factory or a small workshop, this machine can be used for production. As the demand for paper tubes increases, the market potential of automatic paper tube curling machines is huge.
In short, the emergence of automatic paper tube curling machines has brought revolutionary changes to paper tube production. It not only improves production efficiency and quality, but also reduces labor costs and maintenance costs. With the continuous advancement of technology, it is believed that automatic paper tube curling machines will play an increasingly important role in the field of paper tube production.