Description
JYD-JG350B fully automatic paper tube making machine is mainly used for the production of various industrial tubes such as film tubes, printing tubes, leather tubes, and tissue paper tubes.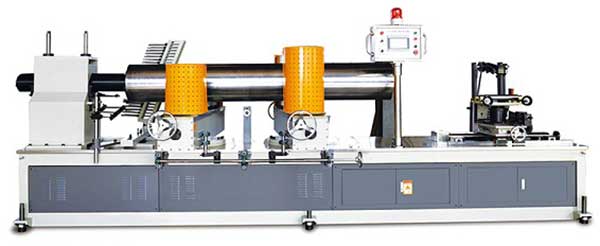 Automatic Paper Tube Making Machine Features
1. CNC servo cutter device, high-precision cutting;
2. Polyester glue knife, high carbon steel glue knife. Durable;
3. Computer PLC control, touch screen man-machine interface operation;
4. The circular knife actively cuts, the cut is more stable, and the performance is more stable;
5. Automatic cutting and automatic drop tube, automatic speed change and automatic recovery during cutting;
6. Integral paper holder and glue supply system, paper guiding integrated linkage device, fully electric adjustment;
7. Automatic paper tube makign machine with a multi-functional backing paper waxing device and an automatic stop function when the paper runs out.
Here is the fully automatic paper tube making machine youtube video working process in our factory for your reference!!
Paper Tube Making Machine Parameter
Technical parameter
Number of paper layers
3-25layer
Paper tube diameter
50-350(mm)
The thickness of the pute
2-15(mm)
Main power
30KW
Input voltage
380V/220V
If you also want to production the paper tube with 3-25 number paper layers, dia paper tube:76-500, paper tube thickness:2-15mm, welcome to contact us freely online to get paper tube making machine more details and 100% free quotation!!