Description
1. The main engine adopts electric angle adjustment, which is convenient to operate;
2. The cutting table is equipped with a servo synchronous circular knife for cutting so that the gap between the paper tubes is uniform and the cutting end surface is flat;
3. JYD-JG500 Four-head CNC paper tube machine the mold is fixed by a flange and female-female buckle, which is easy to replace.
Operating instructions of JYD-JG500 Four-head CNC paper tube machine
Safety protection notice
1. Please be sure to read the letter to the user, the instructions for the use of the machine before (especially special precautions stated in the book), master boot right, and before boot operation.
2. When the machine is running, no moving parts reached any machine (especially the belt).
3. The environment around the machine should be clean, tidy, and suitable for the light so that no other sundries can be placed nearby to avoid inconvenience to the operator.
4. Before starting the machine, it is necessary to ensure that the screws of the moving parts of the machine are firmly connected.
5. Power supply must be cut off before maintenance.
6. Must be on a regular basis to the chain, gear, shaft, and other parts of need to lubricate the lubricating oil, and grease, to ensure the safety and service life of the equipment.
7. Voltage, motor, and parts with high-voltage terminals and other parts do not contact, so as to avoid the risk of electric shock.
80 million do not use wet hands to touch the switch, otherwise, it will cause an electric shock.
8. In the installation of fuses, the JYD-JG500 Four-head CNC paper tube machine must be cut off.
9. Should be a separate grounding wire, the length should be as short as possible.
10. The rest of the note, here is not a narrative, we explain it in the instructions.
Host introduction
I. The main part of the coil
Used to distribute the strips of the coiled tube on the input tray as required.
And roll the paper coming from the paper tray into the desired paper tube.
II. Control panel section
Used to operate the equipment coil start and stop and speed.
III. Pipe cutting section
JYD-JG500 Four-head CNC paper tube machine is used to divide the rolled paper tube into equal segments by size.
IV. Distribution box part
Used to configure the original control of the whole machine.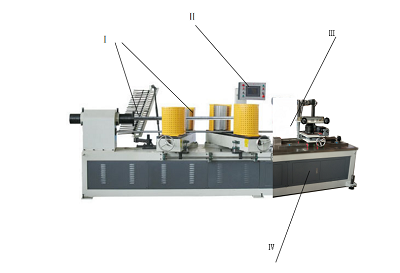 Technical parameter of JYD-JG500 Four-head CNC paper tube machine
Technical parameter
Number of paper layers
3-25layers
Paper tube diameter
76-500(mm)
The thickness of the pute
2-15(mm)
Main power
30KW