Description
1. The inner diameter of the paper tube is 30-70mm; the thickness of the paper tube is 1-5mm; the cutter blade is an alloy blade, which has the functions of fast cutting speed, smooth incision end face, and accurate cutting size.
2. The cutting length of the paper tube is 80-1350mm.
3. Multi-knife pneumatic tube cutting, the cutting speed of the paper tube with a length of 80-1350mm is fast, which saves the moving time of the cutting table compared with the single knife, and automatic feeding is more convenient and labor-saving.
4. JYD-JZ3070 Automatic finishing machine combination control system PLC is a product of Wuxi Xinjie. This system has fast response, accurate data processing, good stability, and strong anti-interference ability.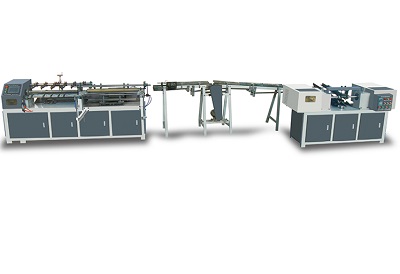 Technical parameter
Technical parameter
Paper tube Diameter
Φ30-70(mm)
Paper tube thickness
1-5(mm)
Cutting paper tube Length
80-1350(mm)
Working air pressure
0.6MPa
Knife quantity
8 set
Motor power
8kw
Speed
42Pcs/min
Operator
1
Voltage
380V/220V
Main dimensions: length * width * height
3900*2000mm*1100mm
Total weight
900kg