Description
JYDFQ-1600B Automatic paper slitting machine is suitable for slitting and rewinding all kinds of wide base paper such as kraft paper, bobbin paper, tea board paper, straw paper, printing paper, and coated paper.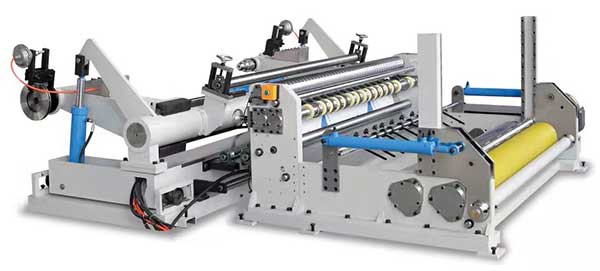 Automatic Paper Roll Slitting Machine Advantages
1. CNC knife adjusting device;
2. Hydraulic unloading, is safe and reliable;
3. Double pneumatic brake, easy to operate;
4. PLC control makes the operation more convenient;
5. Magnetic powder automatic braking can keep constant tension in the slitting process;
6. The paper is loaded by a hydraulic shaftless paper holder, which is convenient, fast, and labor-saving;
7. JYDFQ-1600B Automatic paper roll slitting rewinding machine the automatic deviation correction function makes the edge alignment more intelligent;
Here is the automatic paper roll splitting machine youtube video working process in our factory for your reference!!
JYDFQ-1600B Paper Roll Slitting Machine Technical Parameter
Technical parameter
Width of the base paper
1600(mm)
Base paper diameter
1200(mm)
Rewinding diameter
1200(mm)
Slitting width
>35(mm)
Base paperweight
80-600g
Number of cutters
18pcs
Slitting speed
1-300(m/min)
Speed control
Frequency control
Main power
11kw
Total weight
4000kg

Automatic Paper Roll Slitting Machine Features
1. The main engine motor is Shanghai's strong speed (11kw) with an adjustable speed function. It is convenient to adjust the production speed.
2. JYDFQ-1600B Automatic paper roll slitting rewinding machine with the independent leveling shaft can reduce the inconsistency of the left and right tightness of the slanted paper.
3. The inverter is an Anruiji product, which is a well-known domestic brand with high practical value, low failure rate, and low repair rate. The motor is controlled by frequency conversion, so as to achieve the adjustment of the machine speed.
4. JYDFQ-1600B Automatic paper slitting machine applicable base paper weight 80-600g; base paper diameter 1200mm; base paper width 1600mm; slitting width ≥30mm (tools can be configured according to different needs of customers).
5. The paper feeding method is shaftless hydraulic feeding, which is stable and replaces traditional shaft feeding, which makes feeding faster and saves labor. The handle-type electric paper clip makes the operation more convenient and flexible. At the same time, it is equipped with double brakes to make the paper pulling force more even and powerful, which overcomes the unwinding phenomenon caused by the insufficient pulling force of a single brake.