Description
JYDJQ-76300 paper core tube cutting machine is widely used in the paper tube industry for large dia and thin wallpaper core cutting. It can accommodate paper tubes with a thickness of 76-300mm, a thickness of 1-5mm, and a length of 1200mm. With automatic feeding, cutting, and chamfering processes, one person can manage multiple machines, reducing labor intensity and saving personnel.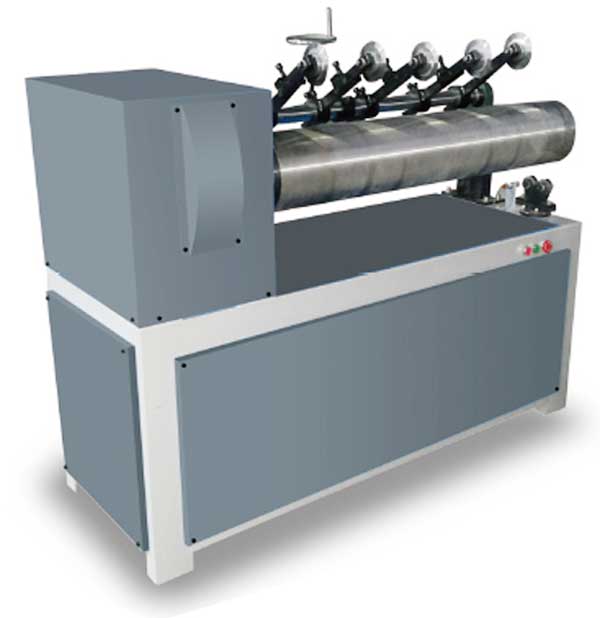 Paper Core Cutting Machine Advantages
1. The spindle has step-less speed regulation, and the speed can be adjusted.
2. Hydraulic self-centering clamping, stable and reliable action.
3. The servo feeding method is stable, precise, and high-speed.
4. High-speed steel and alloy cutting tools can be selected to save cutting tool costs.
5. The servo motor cooperates with a high-precision ball screw, which has high precision and accurate size.
6. Adopt mature PLC technology, and interact with equipment through the man-machine interface, which can be divided into manual and automatic operation, easy to operate and learn.
7. Nylon clamps are optional to avoid scratches on the surface of pipe fittings and have good toughness. V-shaped universal clamps can also be selected for stable clamping.
Paper Core Tube Cutting Machine Working Principle
The paper core tube cutting machine's working principle is that through the cooperation of computer and hydraulic pressure, the electrical system controls the movement direction of the oil circuit of the hydraulic system, and pushes the carriage to move back and forth in a straight line. When the equipment is in operation, the microcomputer will walk according to the cutting program set by the user. During the reciprocating motion, the signal detected from the limit position of the carriage is used as the basis to control and change the movement of the oil circuit, to achieve the expected Go the knife route.
Paper Tube Cutting Machine Features
1. Pneumatic Chuck Tube
Pneumatic chuck is convenient and quick to clamp the tube, with zero error in tube cutting, relatively high stability, and improved efficiency;
2. Large-diameter multi-tool
The single knife can cut various lengths, the cut is smooth, with no burrs, fast speed, high precision, precise cutting of various sizes of paper tubes, factory direct sales, and specifications can be customized;
3. Computer numerical control display
The computer numerical control operation is simple and convenient, and the PLC displays the touch screen, so the functions can be seen at a glance,
Set parameters at will, cut pipes in different lengths for each section;
4. Automatic screw rotation
Fully automatic operation production, automatic diagnosis, and alarm adopts servo positioning system, high precision ball screw rotation cutting resolution reaches 0.01 mm, equipped with automatic warehouse closing, automatic tube feeding, automatic counting, and automatic stop functions;