Description
JYDJQ-7685B Automatic paper tube cutting machine is suitable for fine cutting paper tubes with an inner diameter of 76-85mm, a thickness of 3-15mm, and a length of 3200mm. It is suitable for batch production of paper tubes with long slitting length. It is suitable for more than 95% of the paper tubes on the market. It is widely used in textiles, sanitary products, fireworks, plastics, printing, packaging and other industries.

Automatic Paper Tube Cutting Machine Features
1. Adding pipe system
Automatic tube addition, easy to use;
2. Single knife paper tube fine cutting
Paper tube fine cutting machine, large adjustable range, easy to operate;
3. Large diameter multi-tool
A single knife can cut a variety of lengths, the cut is smooth, no burrs, fast speed, high precision, and can cut a variety of paper tubes;
4. Servo system positioning
Using Taiwan high-precision ball screw transmission, the cutting resolution is less than 0.01mm, and the cutting time for each knife is only 0.5 seconds;
5. CNC operation panel
The new CNC operation panel and large-size color touch screen are operated in a man-machine interface, and the fault is automatically diagnosed and warned;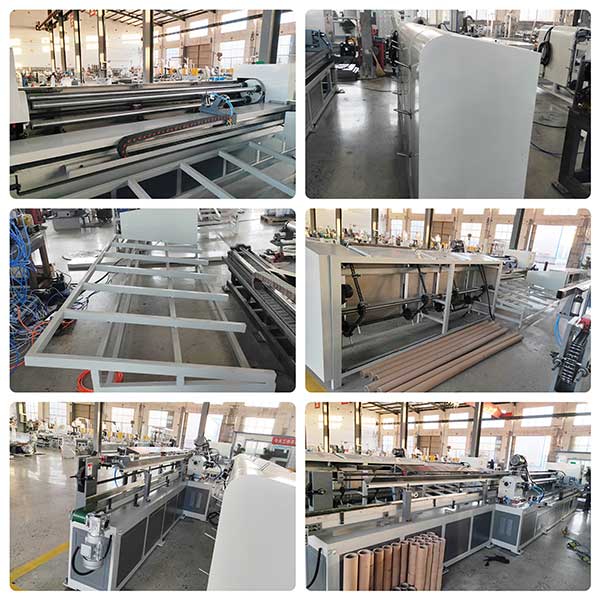 Paper Tube Cutting Machine Parameter
Technical parameter
Paper tube diameter
Φ76-85mm
The thickness of the tube
3-15mm
Cut the pipe tube
20-3200mm
The number of sets of cutting knife
one groups (standard)
Here is the paper tube cutting machine youtube video working process in our factory for your reference!!
Paper Tube Fine Cutting Machine Advantages
1. Automatic servo tracking cutting;
2. Automatic loading and unloading;
3. The cutting length of the paper tube is 5-2000mm;
4. Adjust the cutting length of the paper tube digitally;
5. Single-knife pneumatic tube cutting, fast cutting speed for paper tubes with a length of 5-32000mm;
6. Fully automatic single-axis or three-axis, automatic feeding rack, convenient feeding, and labor-saving;
7. This system has fast response, accurate data processing, good stability, and strong anti-interference ability;
If you also interested in the paper tube fine cutting machine , welcome to contact us freely to get more details and 100% free quotation!!