Performance structure and characteristics of Automatic high speed slitting rewinding machine
2023.02.07
JYDFQ-1600C Automatic high-speed slitting rewinding machine slitting large-axis toilet paper into single, double, or triple layers of paper for folding paper towels, napkins, boxed face towels, etc. This machine adopts a famous blade, automatic edge blowing, fixed upper blade angle, and stable operation.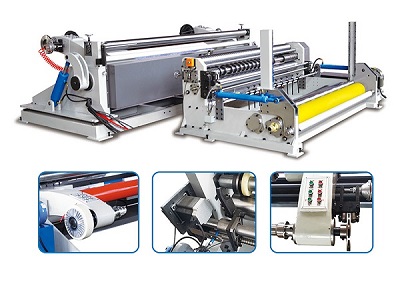 Performance structure and characteristics of Automatic high speed slitting rewinding machine
1. Scope of application: The equipment can cut all kinds of kraft paper, printing paper, coated paper, carpet, and other products.
2. Equipment production requirements: the minimum width of slitting is 20mm; the maximum width is 1800mm.
3. The working principle of the equipment: automatic feeding→synchronous conveying→automatic slitting→automatic rewinding→stop when the number is reached.
4. The equipment is equipped with a pneumatic automatic feeding device, with a maximum bearing weight of about 500 kg, which is convenient for operation.
5. JYDFQ-1600C Automatic high-speed slitting rewinding machine is equipped with a wide belt synchronous conveying device and two control tension devices to ensure the precise size of the finished product. It is also equipped with a set of forwarding and reverse guide cloth conversion devices. According to the demand, the tail automatic deviation correction device can be added.
6. The equipment is equipped with air knife slitting, which is convenient for size adjustment, light and stable, neatly slitting, and the end surface is smooth and free of burrs.
7. The equipment is equipped with the function of rewinding and pneumatic pressing, which makes the products more beautiful.
8. The equipment is equipped with an infrared automatic counting device and automatic shutdown function.
9. The traction and slitting devices of the equipment are equipped with automatic pneumatic lifting devices, which are convenient for threading and more humane to operate. The whole machine table and the parts that are likely to cause hygienic effects on the product are all made of 304 stainless steel.
10.JYDFQ-1600C Automatic high-speed slitting rewinding machine adopts imported frequency conversion combined with a complete set of electrical joint control, and the electrical wiring is standardized, beautiful, generous, and easy to operate.
Zhengzhou JYD Machine Co., Ltd technicians have many years of experience in R&D and design in the industry, and fully grasp the global and Chinese development trends of the tissue paper industry, keep pace with the times, and create satisfactory products for customers of different classes. We will reduce after-sales maintenance and other services with stable and reliable quality, so as to achieve customer satisfaction after-sales service. The cost performance of our products in the same industry is a bright spot.