Requirements before use of WT-D Double wall paper cup machine
2023.02.21
WT-D Double wall paper cup machine is a fully automatic paper cup forming machine newly developed by our company. This machine absorbs advanced technology from various countries, combines years of production experience and continuous innovation, and is suitable for various quality papers in the market. This is a major breakthrough in the history of medium-speed machines. This machine is driven by an imported Schneider frequency converter, ultrasonic welding, hot air preheating, overall automatic lubrication, vacuum pump suction paper, and automatic cup collection system, with stable performance, and a high degree of automation.
The production and use of WT-D Double wall paper cup machines in paper cups are just in line with the national environmental protection policy. Using paper cups instead of disposable plastic cups reduces "white pollution". The convenience, sanitation, and cheapness of paper cups is the key to replacing other utensils and widely occupying the market. Paper cups are divided into cold drink cups and hot drink cups according to their uses. In addition to meeting the needs of their packaging and processing performance, the materials of paper cups must also meet their printing adaptability. Among the many factors in printing technology, the conditions for paper cup processing and heat sealing must also be met.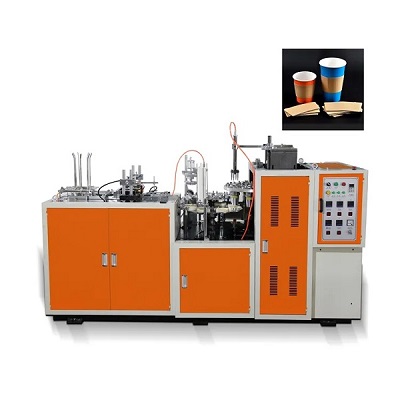 Requirements before use of WT-D Double wall paper cup machine
1. Carefully read the instructions for use of the paper cup machine.
2. The user must conduct independent skill training for the operating staff. The training content is simple structure, basic performance, operation requirements, maintenance knowledge, and safe operation of the equipment.
3. Operators who have not been trained are not allowed to work alone.
4. Operators must understand the structure, principle, and performance of the paper bowl machine. Must learn to use maintenance and maintenance.
5. After WT-D Double wall paper cup machine has been used for a period of time, it is not allowed to arbitrarily replace new hands to operate alone.
Advantages of WT-D Double wallpaper cup machine
1. Fast production speed. Ordinary paper cup machines can produce 40-50 paper cups per minute.
2. WT-D Double wallpaper cup machine can produce different types of paper cups. Produced in 4 oz – 16 oz paper cups.
3. Small footprint. Only 2.28 square meters.
4. Easy to operate. No technical expertise is required.
5. The product is environmentally friendly. Degradable and non-polluting.
6. The product is non-toxic. Does not contain any harmful substances.
7. The product is resistant to high temperatures. It can hold liquids at a temperature of about 80°C.