Description
Supplementary Condition: If you need our engineer to go to your factory to help install and test the machine, please be kindly bear their visa, go and return tickets, lodging, and eating, and salary.
Characteristic of RY-4 colors paper cup flexo printing machine
1. Adopt the anilox roller to spread the ink.
2. Unwinding and rewinding are controlled by a magnetic power brake, or clutch(or by an automatic tension controller made in China).
3. Each printing unit adopts 360'for registration.
4. Each printing unit has an IR dryer.
5. The rubber roller can break away automatically while parking, and running at a low speed, in order to avoid ink being dry.
6. RY-4 colors paper cup flexo printing machine the main motor adopted the import step-less regulation of frequency conversion.
7. Unwinding, web guiding, printing, IR drying, and rewinding can be finished in one process. This is an ideal machine for printing factories to print many kinds of a paper cups or paper straws or paper and so on.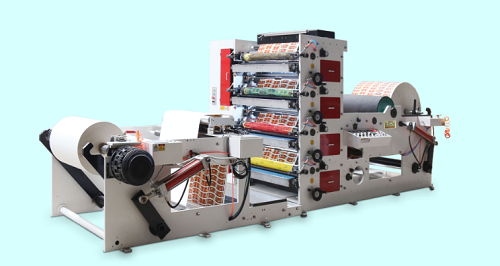 Main technical variables of RY-4 colors paper cup flexo printing machine
| | |
| --- | --- |
| Model  | ZBRY-950mm/1050mm/1200mm |
| Printing speed | 120m/min |
| Printing color | 4 colors |
| Max. Web width | 950 mm/1050mm/1200mm |
| Max .printing width | 950 mm/1050mm/1200mm |
| Max. unwinding diameter | 1500 mm |
| Max. rewinding diameter | 1500 mm |
| Printing length | 175-381mm |
| Precision of chromatography | ±0.1mm |
| Printing cylinder | 4 pcs |
| Ceramic anilox roller | 4 pcs |
| Total power | About 30KW |
| Dimensions | 5.0mX3.0m X2.5m |
| Machine weight | About 4000kg |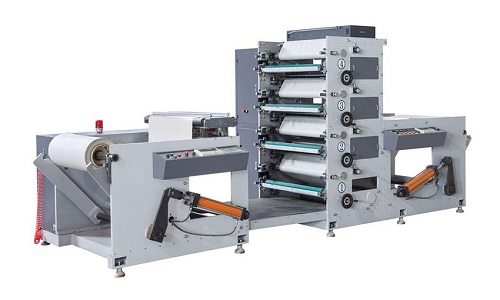 Specification of RY-4 colors paper cup flexo printing machine
1. Main motor ——→7.5KW , Weilan, ShangHai, Made in China
2.Transducer——→ 7.5KW, ZhenXuan, Shenzhen, Made in China
3. Temperature controller——→YueQing, Zhejiang, Made in China
4.Speed Display——→ Zhongxinggongkong, Made in China
5. All low-tension electrical ——→ Schneider, France / ZhenTai, China
6. Printing speed: 120m/min.
B. Main Motor part:
1.Ink motor——→Jingyan, Made by Xiamen
2. Ceramic Anilox Roller ——→ Shanghai laser company, Made in Shanghai
3.Printing Roller——→Zhenbang, Made by Rui'an
4.IR dryer system——→ Audi, Made by Rui'an
5.Relay——→ Schneider, Made in France
C. Unwinding part:
1. Tension control ——→ZX TEC company, Made in China
( Extra Optional: Mitsubishi, made in Japanese)
2.Web Guiding ——→Sanyang company, Made in Japan
3. Automatic brake (air brake) ——→ Taiwan BrandElectrical Billy valve, Control of the unwinding part of the pneumatic brake ——→ SMC, Made in Japan
5. Hydraulic feeding hydraulic cylinder ——→ made in China
6. Max. unwinding diameter: 1200mm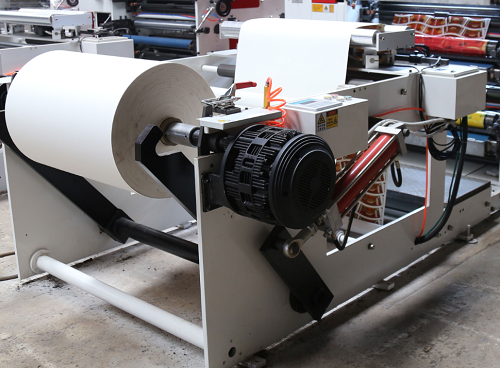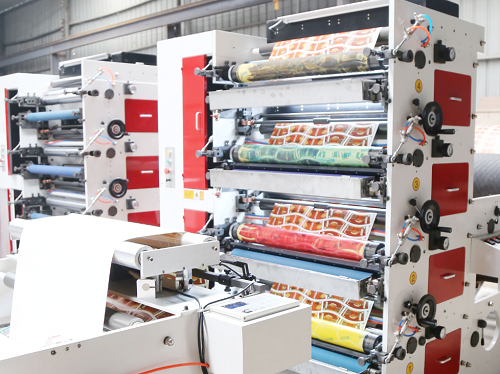 D. Rewinding part :
1. Rewinding variable frequency motor plus horizontal wheel gearbox ——→ 1 pc, 7.5KW, China Brand
2.Low friction air-cylinder ——→ 1 pc, Japan Brand3.Pressure air-cylinder——→ 2 pcs, China Brand 4. Hydraulic cutting, hydraulic air-cylinder ——→ 1pc, China Brand
5. RY-4 colors paper cup flexo printing machine max. unwinding diameter: 1200mm