The automatic paper cup handle machine needs new product development
2023.03.09
A product needs to be developed and researched for new functions and products after being used for a period of time. If the ZBNB-D Automatic paper cup handle machine remains unchanged, it will be easily eliminated. Therefore, if you want to be popular all the time, the paper cup machine must carry out new product development.
1. The technical content of ZBNB-D Automatic paper cup handle machines is increasing day by day: some existing paper cup machine products in my country have low technical content, while many advanced technologies have been applied to paper cup machines in foreign countries.
2. The ZBNB-D Automatic paper cup handle machine market is increasingly monopolized: it is predicted that as foreign companies enter the Chinese market, some domestic uncompetitive paper cup machine companies will be acquired, merged, or bankrupted by foreign companies, and some products will be sold by several companies. monopolized by large corporations.
3. Specialization in the production of paper cup machine parts: the international packaging industry attaches great importance to improving the general capabilities of paper cup machines and the entire system. Therefore, the specialization of the production of paper cup machine parts is an inevitable trend of development.
Many parts are no longer produced by paper cup machine factories, but by some general standard parts factories, and some special parts are produced by highly specialized manufacturers. The really famous paper cup machine factory will probably be an assembly plant. This is because many control components or structural components of the paper cup machine are the same as general equipment and can be borrowed.
4. Towards multi-functional and single high-speed polarization. The ultimate goal of the paper cup machine is to increase productivity and product diversification.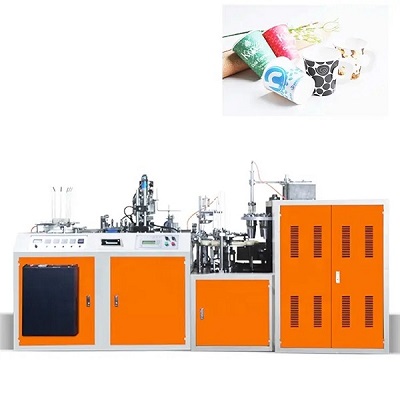 Features of automatic paper cup handle machine
1. Imported main materials, bearings, and torque are wear-resistant, and suitable for long-term high-speed operation.
2. Imported motor frequency regulator and electrical control components, computer program control frequency converter, stepless speed regulation. And specially designed photoelectric detection, and fault alarm functions. The electrical performance is stable and the service life is long, especially suitable for the unstable voltage situation in our country.
3. Key components such as the gearbox, transmission shaft, clutch mold, control system, etc. are trouble-free and maintenance-free.
4. ZBNB-D Automatic paper cup handle machine adopts a high-quality stainless steel countertop shell and contact parts, which are clean, antibacterial, anti-shock, anti-pollution, wear-resistant, and anti-aging.