Applications of PY-1200S Roll die-cutting and creasing machine
2023.03.30
PY-1200S Roll die-cutting and creasing machine adopts international advanced shaftless transmission technology and high-precision electronic shaft automatic registration system, man-machine dialogue, high degree of automation, and convenient operation. The indentation and bronzing stations adopt a unit structure, and complete sets of equipment can be customized and designed according to customer requirements and product technology.
PY-1200S Roll die-cutting and creasing machine production line is advanced in technology, reasonable in process, reliable in performance, high in production efficiency, and low in waste. It is widely used in the field of post-press processing and is the first equipment for the post-press processing of roll materials.
PY-1200S Roll die-cutting and creasing machine adopts a high-precision intermittent paper feeding mechanism, fast locking plate, unique color mark photoelectric registration, and photoelectric deviation correction control system, coupled with high-speed servo positioning paper feeding, to achieve smooth paper feeding and accurate positioning, Collect paper neatly. The application of a dedicated PLC industrial control computer control system and visual man-machine interface has realized the high degree of automation in the working process of the whole machine and dynamically displays various working state parameters of the machine through the interface. Such as machine running speed, number of batches of finished products, and the number of current batches of finished products, etc., to change different types of products, you only need to use the interface to set product parameters, realizing intelligent operation. The key components of the machine and the fasteners used in the control system are imported and original, which ensures the stable pressure and accurate positioning of the machine.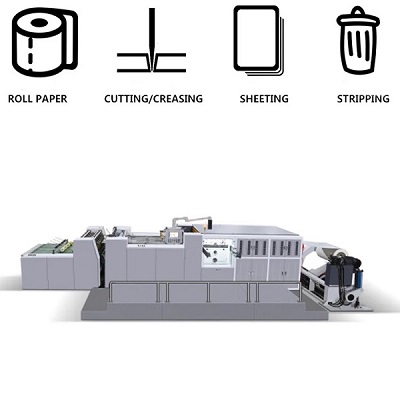 Features of PY-1200S Roll die-cutting and creasing machine
PY-1200S Roll die-cutting and creasing machine is used to press and cut various paper boxes, paper cups, paper bowls, surrounding labels, gift bags, Tetra Pak cardboard, window paper, cigarette packs, mosquito coils, paper plastic covers, Aluminum-plastic covers, non-woven fabric, PVC folding box, PP folder, various plastic sheets and other materials and special-shaped products forming die-cutting creasing equipment, suitable for the production of paper and film industries, rolls Under the traction of the servo motor, the paper is sent to the flat die-cutting station. The feeding amount can be set through the screen, which is convenient and accurate. Both white paper and printed paper can be die-cut. The tension system adopts a pneumatic clutch, which is fast and reliable.
Applications of PY-1200S Roll die-cutting and creasing machine
PY-1200S Roll die-cutting and creasing machine adopts the roll paper feeding method and the round pressing process, and directly performs a series of operations such as indentation (bronzing) on the printed roll material, so that the printed product can be printed at one time. processed into products. The process is simple, the processing precision is high, there is no need to reserve a bite during typesetting and printing, and continuous cross-typesetting can be performed, which can save raw materials and save a lot of operators. It is an ideal choice for post-press processing to increase production capacity and reduce production and operation costs.