Environmental features of TH-40 High-speed CNC angle protector machine
2023.02.01
TH-40 High-speed CNC angle protector machine is a paper angle protector produced by special processing of paper and adhesive as raw materials. It is not environmentally friendly, and it is recyclable. For example, in the packaging of air conditioners, washing machines, and other products, the use of corner guards can increase the compressive strength on the one hand, and another important factor can replace the foamed plastics that cause environmental pollution while eliminating the need for outer packaging cartons. In metal sheet and flat paper packaging, traditional packaging causes surface deformation and damage due to packaging, which affects the quality of the product. Corner guards can effectively protect the product. Glass products and ceramic products are easily damaged during transportation, and adding corner guards to the carton can increase its compressive strength and protect the quality.
TH-40 High-speed CNC angle protector machine (multi-knife cutting can reach 25 meters per minute, any speed change, automatic tracking service, the produced paper corners can be packaged immediately, the paper corner angles are standard, and the length specifications are the same) The single-knife cutting can reach 30 meters per minute, the price is affordable, and there are many specifications and varieties. Welcome to buy.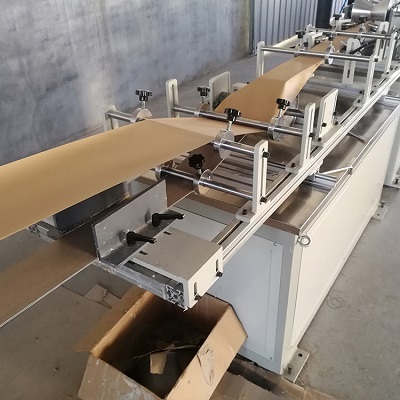 Environmental features of TH-40 High-speed CNC angle protector machine
1. The wall plate support arm is welded with steel plates of uniform thickness to form a firm and balanced angle so that the machine can be hydraulically corrected smoothly and with high precision under high-speed working conditions.
2. TH-40 High-speed CNC angle protector machine The whole machine is made of chrome-plated steel pipe, the surface is ground, and each piece is processed by dynamic balance
3. The rewinding adopts a 3-inch inflatable reel and a tension controller for rewinding, the slitting operation is simple, and the maximum rewinding diameter can reach 1300mm; the rewinding is beautiful and neat
4. The cutter adopts the double-knife design of the face knife and the bottom knife, and the adjustable knife between 30mm-1600mm (specially customized 10mm~1600mm).
5. TH-40 High-speed CNC angle protector machine spindle and circular knife use frequency converter step-less speed change system; frequency converter speed regulation system, when using, manually adjust the speed of the machine, which is convenient and simple. PLC digital control, touch screen setting for mass production.