Description
JYDJQ-2050 Automatic paper tube cutting machine with automatic loading and unloading system saving labor cost; servo tracking cutting; suitable for precision cutting of paper tubes with an inner diameter of 20-50mm, a thickness of 1-3mm, and a length of 1250mm. (a standard set of knives)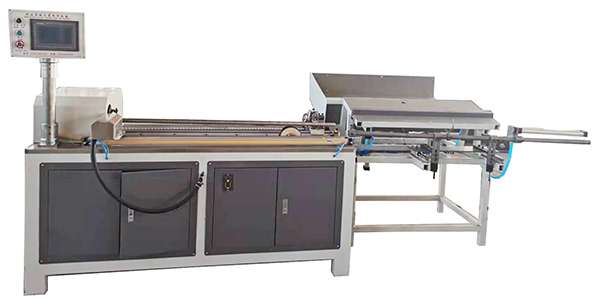 Paper Tube Cutting Machine Advantages
Convenient and quick, easy to operate, and easy to use;
Wide range of use, suitable for various occasions, high-cost performance;
CNC precision cutting without error, the length of the cutting section can be adjusted, and the effect is good;
JYDJQ-2050 Paper Tube Cutting Machine Parameter
Technical parameter
The inner diameter of the paper tube
Φ20-50(mm)
Paper tube thickness
1-3(mm)
Cut pipe length
10-1250(mm)
Number of cutter groups
1 set (standard )
Working pressure
0.6MPa
Control method
CNC
Motor Power
1.1kw+0.22kw
Operators
1
Here is the automatic paper tube cutting machine youtube video working process in our factory for your reference!!
Automatic Paper Tube Cutting Machine Features
1. PLC control, I/O monitoring, automatic alarm, fault prompt, easy maintenance;
2. It is mainly used for secondary fine cutting of paper tubes to meet customer requirements;
3. The three axes (three stations) of the machine work at the same time, and the tube loading, tube cutting, and tube unloading stations are completed at the same time, realizing high-efficiency automation;
4. The production operation is completely digitized, the product specifications are input into the touch screen in batches, the production quantity is monitored, and the machine stops automatically after completion;
5. JYDJQ-2050 automatic CNC small tube cutting machine can be used together with the paper tube polishing machine and can be used simultaneously with the paper tube grinding machine. It can be connected to the paper tube for polishing, tube cutting, and grinding head integration;
If you do not have the automatic request for this paper tube-cutting machine, We also have a semi-automatic paper tube-cutting machine, which can also meet your needs for cutting the small dia paper tube. It needs to be equipped with 1 worker for manual tube loading.