Take you to know more about Automatic Single knife CNC cutting machine
2023.02.14
JYDJQ-7685A Automatic Single knife CNC cutting machine is an efficient and widely used biaxial shredding machine. Its main shearing component consists of two sets of cutting blades mounted on two independent shafts. The independent working twin shafts are based on the design concept of Papsen rotary lobe pumps. The shapes of the blades on the upper and lower shafts are different. Through the rotation of the shafts, the blades bite each other to cut and break the medium. At the same time, the different rotation speeds of the upper and lower shafts ensure the cleanness of the pulverizing results and prevent the textile fiber material from wrapping on the shearing blade/cutter. The design of the quick-opening end cap makes all the internal parts with the current flow can be maintained conveniently and quickly.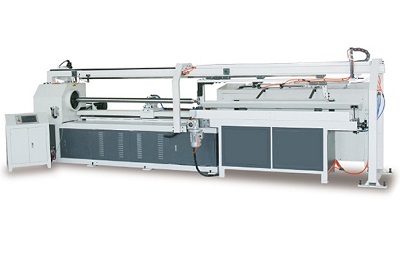 JYDJQ-7685A Automatic Single knife CNC cutting machine the front plexiglass guard plate is safer. The pure mirror stainless steel feeding table is truly beautiful and ensures safe production. It has a high stroke, strong cutting force, a high degree of automation, and easy operation. Low noise and good safety device, humanized design of automatic lifting feed roller device, faster and neater in the cutting process, long life and wear resistance. It is suitable for cutting soft plastic products, PE, PP films, pipes, plates, cardboard, thin aluminum sheets, and other materials.
Features of Automatic Single knife CNC cutting machine
1. Simple operation control panel, control of each part, centralized panel operation;
2. Adopt a silicon solution cooling system to avoid sticky cutting knife and ensure smooth pipe cutting operation;
3. JYDJQ-7685A Automatic Single knife CNC cutting machine the cutter stroke is positioned accurately: the cutter stroke is driven by a high-performance servo motor, combined with precision ball screws and linear slide rails, the cutter seat slides lightly, accurate positioning, fast cutting, The speed is accurate and consistent;
4. The upper and lower hoses are supported by hydraulic cylinders to ensure the stability of small-diameter hoses when cutting;
5. The double hoses are cut at the same time with a single circular knife, with high efficiency.