Description
HF(B) series honeycomb pannel lamination machine is used to expand and laminate the honeycomb paper core from the HCM to form the honeycomb paperboards. It apply glue on honeycomb core or face paper at same time , top and ottom paper lamination with honeycomb core together.After modifications in gluing, cutting, and pressing unit, this line can make max 100mm thickness honeycomb panel in line.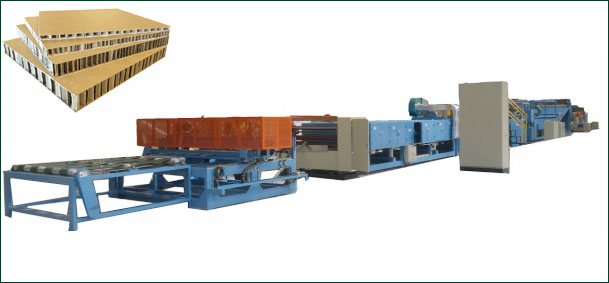 The honeycomb panel laminator working principle is to use hot pressing technology to place the panels together with the adhesive on the working table of the machine. Heat and pressure are then used to cause the adhesive to become viscous at high temperatures and firmly bond the panels together. This lamination technology can effectively improve the strength and durability of the board.
Honeycomb Making Process:
Paper feeder——honeycomb expand——Expandingn oven——Gluing unit——Cotton belt pres——IR heating&rollers press1——Belt press2——IR heating&rollers press2——trimming—— cross cutter—Convey&stacker.
Honeycomb Pannel Lamination Machine Features
1. The overrunning clutch device is used for gluing.
2. The rubber roller and the upper pressure roller are raised and lowered by air pressure, and Taiwan frequency conversion transmission.
3. This honeycomb pannel lamination machine integrates the dust collector, gluing, pasting, hot pressing and cold pressing in one, with high working efficiency.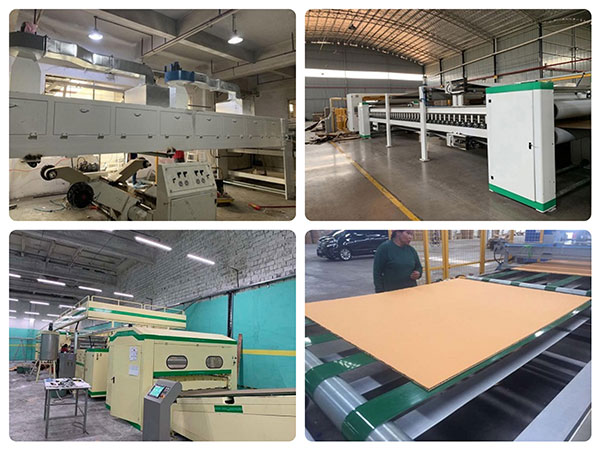 Honeycomb Paperboard Laminating Machine Advantages
1.The Synchronization cutting mechanism adopts servo tracing which has high cutting accuracy;
2.Honeycomb machine adopts full Hydraulic shaftless paper holder, it is more convenient to operate;
3.We use imported cutter which is durable, and imported high-precision rails which has high cutting precise.
4.High speed horizontal cutting honeycomb machine, which don't touch the gluing line while cutting, and the core paper feeding into cutter are stable.
5.It adopts Taiwan ball screw which makes the walking freely; By using imported high-precision rails, it can move flexible and cutting with high-precision.
6.It uses automotive-type disc brake structure which can stable control the tension. The overall uses of casting structure, the mechanical properties more stable.
Honeycomb Laminating Machine Parameter
| | | |
| --- | --- | --- |
| No. | Item | HF(B)-1600 |
| 1 | Thickness of honeycomb paperboard | 6-100mm |
| 2 | Maximum width of machine | 1600mm |
| 3 | Cardboard cutting precision | +-2mm |
| 4 | Length of honeycomb paperboard(after cutting) | >=500mm |
| 5 | Applicable paper | 170-600gms cardboard paper or Kraft paper |
| 6 | Layer of face paper | 1 |
| 6 | Maximum designing speed | 20m/min |
| 7 | The actual production speed | 6-16m/min.(According to the paper dry degree、Glue quality、paper core thickness、Local humidity and other factors to change ) |
| 8 | Heating drying method | electrical heating |
| 9 | Total motor power | 30KW |
| 10 | Electric heating power | 90KW |
| 11 | Installation power | 90kw |
| 12 | Man power | 3-4 for normal working |
| 13 | Layout | 40000X4000X2000mm |
| 14 | Machine Weight | 25 tons |
| 15 | Power supply | 3 Ph. 380 V AC/50Hz |
Honeycomb Paper Lamination Machine Need Pay Attentions
Use qualified cardboard and glue to ensure product quality;
Regular maintenance of equipment to ensure its normal operation and safety;
Control heating and pressure parameters to ensure the stability and quality of lamination;
With its technological innovation, wide application and environmental protection advantages, the honeycomb paperboard laminating machine is becoming the engine to promote the development of the honeycomb paperboard industry. In the future, with the continuous advancement of technology and the improvement of environmental protection awareness, honeycomb paperboard laminating machines are expected to exert greater potential in more fields and make greater contributions to creating a greener and sustainable society.