Description
FQB-1300W automatic paper roll slitting machine can cut the roll substrate non-woven fabric with a width of less than 1600mm into several rolls, and the narrowest can cut 20mm edge strips. This machine is suitable for paper, film, non-woven fabric, BOPP, PET, CPP, CPE, PVC, aluminum foil, paper, etc. self-adhesive composite products.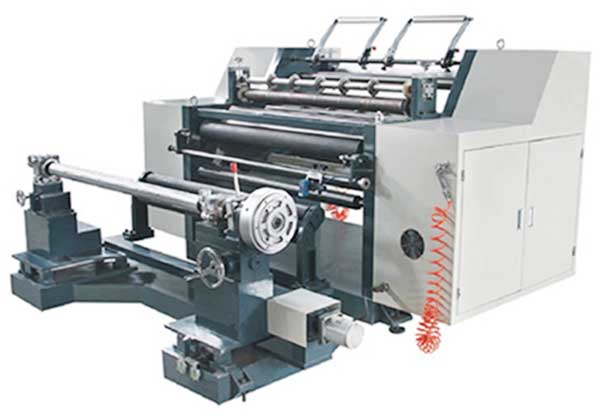 Paper Roll Slitting Machine Features
Cutting length automatic meter counting;
The running speed can be adjusted freely;
Simple operation, stable operation, separate control of unwinding, upper rewinding and lower rewinding tension;
An automatic deviation correction device can be selected for unwinding to correct irregular coils and reduce material waste;
Equipped with a fan and waste edge blowing pipe, the waste edge can be blown out automatically;
Here is the paper slitting machine youtube video working process in our factory for your reference!!
FQB-130oW Paper Slitting Machine Parameter
| | |
| --- | --- |
| Model | FQB-1300W |
| Maximum Width | 1300 mm |
| Maximum Unwinder Diameter | 1000 mm |
| Maximum Rewinder Diameter | 600 mm |
| Cutting Width | 30-1300 mm |
| Inner Diameter | 76 mm |
| Cutting Thickness | 10-75um(Flat knife) 10-350 um(Diseknife) |
| Separating And Cutting Speed | 200m/min |
| Deviating-rectifying Error | +0.3 mm |
| Total Power | 4.8 KW |
| Weight | 2800kg |
| Dimension(L*W*H) | 3000*2750*1520 mm |
Automatic Paper Roll Slitting Machine Advantages
1. This machine is a horizontal slitting machine;
2. Equipped with side waste air delivery and coiling device;
3. Winding and unwinding, magnetic powder tension control;
4. Double air-inflatable shafts for winding, slitting, and flat rolling at the end face;
5. The cutting of aluminum foil paper needs to be assisted by the purchase of round knives;
6. Automatic meter counting for sufficient material, photoelectric correction for unwinding;
7. Main control system PLC + man-machine interface taper tension/independent microcomputer, control screen, easy to operate;
If your budget is limited, or the requirements for automation are not high, we also have semi-automatic paper-slitting machines for your reference. And after the slitting process, we also have a series of paper processing equipment such as paper tube-making machines, tube-cutting machines, and paper edge protector machines for you to choose from. We can also provide customized paper processing solutions according to your specific needs. If If you have any questions about paper cutting or paper processing, please feel free to leave a message with us online for more detailed information!!